Hedge Removal & Hedge Cutting in Leeds, Harrogate, Wetherby and surrounding areas
Bardsey Tree Services provide hedge removal, hedge maintenance and hedge cutting in Leeds and surrounding areas. From small domestic garden hedges to large commercial hedges including Council contract hedges.
Commercial Hedge Cutting
Are you are a business in Leeds, Wetherby, Tadcaster, Harrogate, or the surrounding areas? Do you require a professional, reliable company to maintain and cut your hedges? Then please give us a call.
Our hedge services include Hedge Planting, Hedge Cutting, Hedge Removal, and general countryside and woodland management. For all domestic and commercial environments. All work is carried out by our fully trained, safety-conscious staff.
Hedge Trimming & Hedge Maintenance
Established hedges require trimming to keep them dense and compact. Bardsey Tree Services offer various hedge cutting and hedge maintenance services. New hedges require formative pruning for the first couple of years after planting. We have specialist hedge trimming machinery and can offer tractor and flail hedge trimming.
Hedge Removal Services
Do you have a hedge that needs removing in Leeds, Harrogate, Wetherby, or Tadcaster? Bardsey Tree Services provide a professional hedge removal service. We have the equipment and expertise to assist in the safe removal of hedges of all types and sizes. So whether you have a garden hedge, a large conifer, we can help. We also work with farm and commercial hedges. Contact us today to find out more.
Tractor Hedge Cutting
We are able to provide a Tractor Hedge Cutting Service in Leeds, Harrogate, Wetherby, Knaresborough, and surrounding areas. If you require this service either as a one-off or regularly then please contact us for a free quote.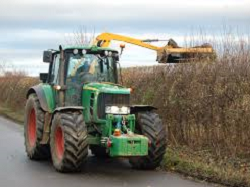 Conifer Trimming and Maintenance
Do you have brown patches in your conifer hedge?
Brown patches in conifers can be caused by a number of reasons. For example, pests or diseases are responsible in some cases. However, others may be caused by growing conditions or routine operations such as trimming. You can find brown patches appearing on any conifer. But most problems occur on Cuprocyparis (Cupressocyparis) leylandii (Leylandi cypress), Chamaecyparis lawsoniana (Lawson cypress), and Thuja plicata (western red cedar).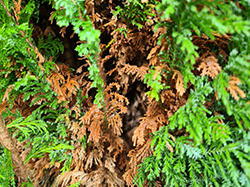 Call today on 01937 573 689 or 0113 4182302 or email us to arrange a visit!
Protection of nesting birds
We take responsibility for wildlife seriously. All care is taken before cutting any hedges, this is to ensure it is safe to do so. It is an offence under Section 1 of the Wildlife and Countryside Act of 1981 to intentionally take, damage, or destroy the nest of any wild bird while it is in use or being built. For this reason, most importantly, we always recommend cutting hedges between September and April which is outside of the usual nesting period for birds.
If in doubt give us a call, we offer free advice.
Areas we cover
Harrogate &  Villages
• Bishop • Monkton  Staveley • Scotton • Burn Bridge • Huby • Weeton
Wetherby and Villages
• Kirk Deighton •  Walton • Spofforth • Thorp Arch • Boston Spa • Collingham • Bramham
Tadcaster