Snow Plough Hire: Clearing snow in Leeds,  Harrogate, Wetherby and surrounding areas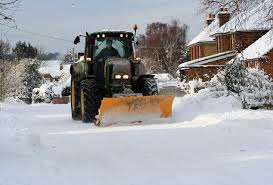 Snow Plough Hire: Bardsey Tree Services have invested in a snowplough for hire. Therefore we can provide a snow ploughing service aimed at all businesses with private roadways and car parks.
The UK gets on average 23.7 days of snowfall or sleet a year (1981 – 2010) according to the Met office. And although we generally get a warning for heavy snow, they can sometimes get it wrong. Leaving businesses unprepared which can have an impact on staff and sales.
On average across the UK, there are 15.6 days a year when snow is on the ground, compared to 26.2 days in Scotland. The winter of 2010 in England saw the earliest widespread winter snowfall since 1993 with snow falling as early as 24 November across Northumberland and North Yorkshire. So we recommend booking early.
In the past, we have worked with a range of businesses, for example:
Doctor Surgeries
Large business parks
Shopping centres
Supermarkets
Hotels
Cinemas
Leisure Centres.
We can offer short term and flexible hires to suit your business. Currently, these services are available in Leeds, Harrogate, Knaresborough, Wetherby also surrounding areas.